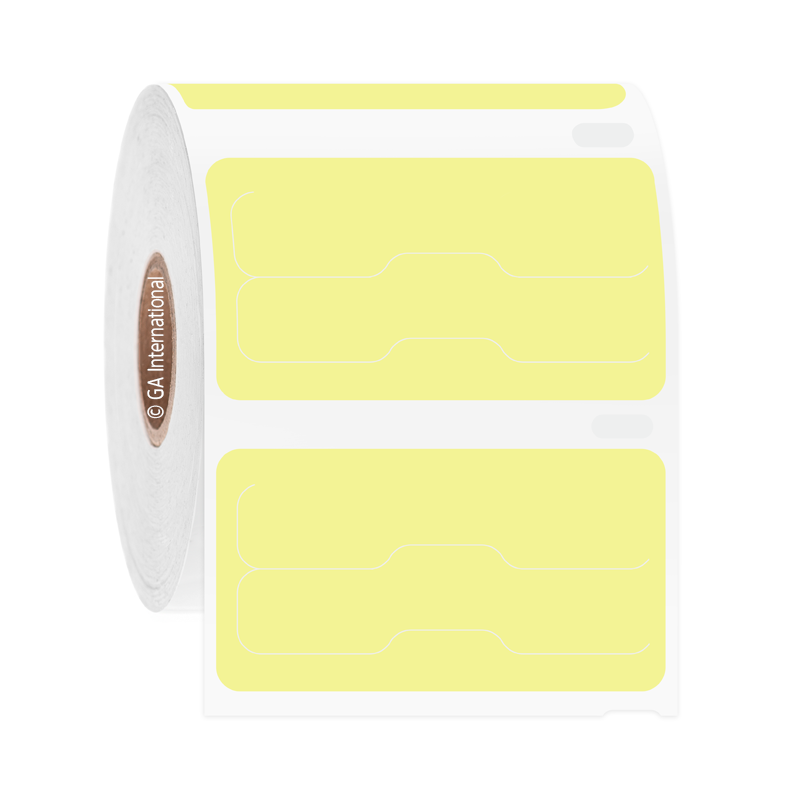 DYMO-Compatible Price Tag Labels – 0.75″ x 0.375″
#EF1F-078
Note
Description
Cryo-DTermo™ – DYMO-Compatible Price Tag Labels
Total Label Size: 2.313″ x 1.3125″ / 58.75mm x 33.33mm
Printable Area: 0.75″ x 0.375″ / 19 x 9.5mm
Labels Across: 1 set of 2 stacked labels
Labels/Roll: 1500
Available Colors: White, Light Mint, Light Pink, Light Yellow
Adhesive: Permanent
DYMO-compatible direct thermal price tag labels.  The fashionable labels are available in assorted colors, ideal for inventory control, and the identification of jewelry, accessories, and optical frames. These versatile jewelry labels are provided in dumbbell format, with an adhesive-free center bar,  to securely fit and identify any piece of merchandise.
Benefits:
Available in a range of eye-catching colors
Compatible with all DYMO direct thermal LabelWriter® models
Provided in dumbbell format (stack of 2 labels per template)
Resistant to gamma irradiation (tested to up to 50kGy)
Equivalent to Dymo Label #30299
Frequently asked questions
No, Cryo DTermo labels do not require a ribbon to print. They are a class of direct thermal labels, in which a printout is achieved by simply applying heat to the label surface, using a heated printhead.
Yes, Cryo DTermo labels are designed specifically to work with DYMO LabelWriter printers. For more information regarding our DYMO-compatible solutions see here.
No, our DYMO-compatible labels work with LabelWriter DYMO printer models that do not require a cartridge. Namely the LabelWriter 450, 450Turbo and the 4XL models.
No, though Cryo DTermo labels are classified as direct thermal labels, they cannot be printed with traditional direct thermal printers. They are designed to work specifically with DYMO printers, and only with DYMO printers.
DYMO LabelWriter barcoding software can be used to create templates that conform to the size of your label. You can then insert design elements within the template, for easy printing. Preconfigured templates for all of our DYMO-compatible can be found here.
You can download the DYMO LabelWriter software by visiting the DYMO website. Software and drivers for either PC or Mac are available for download.
Please consult our handy sizing guide where you will find recommendations for the most common vial/tube sizes.
No, DYMO labels will turn entirely black when exposed to elevated temperatures and should not be used for high-heat applications. This includes sterilization by steam autoclaves and dry heat ovens.
Yes, we offer a line of DYMO-compatible paper labels that are ideal for all general use applications, including office work, such as filing.